Hot Links are our Specialty
Roger's Meat Market uses ALL Pork in our  Smoke, Regular, XX, Super, Andouille, Polish & Pepperoni.
Roger's Meat Market uses ALL Beef in our Beef Regular.
NO FILLERS ARE EVER USED!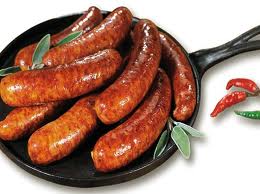 Check out All of our great Old Fashioned Hot Links: Regular, XX, Super, Beef, Polish, Pepperoni, Smoked, and Andouille. Our new Hot Links, Smoked and Regular with Cheese, they are amazing:  We start out with a course grind, then mix in our secret family recipe, stuffed in our Natural casing, then hand twisted. After smoking them for 2 hours and cooling overnight, then we clip them, and they are ready for you to take home for your special event or just a family meal. Try our Andouille in your next Shrimp Gumbo or Jambalaya, they are Amazing. We also carry T-bones, NY Strips, Rib-eyes, Pork Spare Ribs, Bacon, Brisket, Chicken, Shrimp, Smoked Ham Hocks, Bologna, Ham, Salami, Souse, and Cheese. Don't forget about the Great Savings that our Meat Packs offer, we carry a Pork Pack, Beef Pack, Griller Pack, and our Sampler Pack, it has a little bit of everything in it. You can also Build Your Own Custom Meat Pack and Save 10% if its $180.00 or more.
Don't forget to try our Custom Made Original Beef Jerky, Terayaki, Black Pepper, and Lemon Pepper, they are all Amazing. Then stop by and pick up some of our Amish Made Jams, Jellies, Pickles, Quail Eggs, Hot Salsa, Apple Butter, Pickled Baby Beets, and some Sorghum Molasses to go with it.
Visit Our Products page to see a full list.  Let us Process your Wild Game, Deer, Elk or Hogs.
Now Shipping Our World Famous Hotlinks to all 50 States
Call the Store for a Quote
405-677-2306
Stop by our New Second Location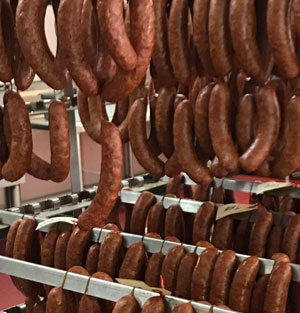 THANK YOU for voting for us! We are in the TOP 5 of BEST BUTCHER SHOPS IN OKLAHOMA for 2018!
And YOU helped put us there! Our customers love our hot links, choice cuts of beef, as well as a variety of other items found in our shops.